Branding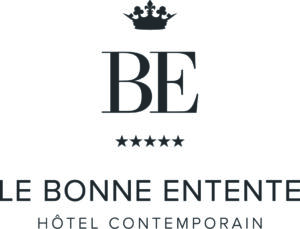 In order to facilitate and comply with Le Bonne Entente Hotel's brand image, we provide our partners with access to the hotel's logo as well as our Brand Standards Guide
All the information on this website, including the texts and graphic design, is the property of Le Bonne Entente Hotel. All other brands, company names and names of products appearing on this website belong to their respective owners.
Download the Bonne Entente VERTICAL logo
Download the Bonne Entente HORIZONTAL logo
Download the Logo Brand Guide (french only)
For all other requests or to obtain high-resolution photos of our hotel, please contact Karine Rancourt at krancourt@kressource.com.
Press
In 65 years of history and innovation, our luxury hotel in Québec and our team have received many international prizes and distinctions. See who has made the headlines here: